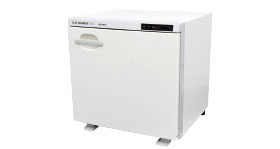 The main functions of Clay Oven & Warmer are to warm up and keep clays warm and soft. These equipments are installed at many of auto makers in the world and equipped with the several functions to keep the inside ideal environment.
Clay Warmer PU-01
The Warmer only for Industrial Clay.
The temperature setting for either 45°C or 60°C is just done by the switch. It is the portable size, but with its capacity, it can hold 15 billets at once. This capacity is for making a scale model. This warmer is more convenient, light-weighted, and saving space.
PU-01
Max capacity
15 billets
Number of trays
3
Outer dimension
W450 x H450 x D410mm
Mass
13kg
Preset temperature
45°C / 60°C with switch