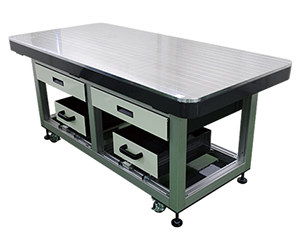 Level surface plate for creating scale models. Significantly lighter than cast iron surface plates and highly rigid.
Installed with 5 level points, in each corner and at the center, for highly accurate flatness adjustment. The Aluminum Surface Plate Table is multipurpose for marking, clay model measurement and presentation.
Product Dimensions
Exterior Dimensions
1800(Length)×850(Width)×800mm(Height)
Surface Grid Lines
50mm Grid Lines(Engraved)
Contact TOOLS INTERNATIONAL for more information on custom tables.